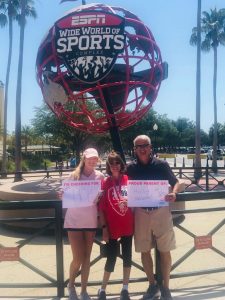 Congratulations to Holly Nelson, local Nassau County Olympian, for placing in two events at the Florida Special Olympics.
From May 17-18, 2019, the Special Olympics Florida State Summer Games were held at Disney's ESPN Wide World of Sports Complex in Orlando, FL. Over 2,000 athletes, who first advanced through county and area games, competed in sporting events including track and field, cycling, volleyball and soccer.  The opening ceremony featured the final leg of the Law Enforcement Torch Run, a 1,500-mile intrastate run that began in mid-April in Jacksonville and culminated in the delivery of the Flame of Hope to Champion Stadium.
Holly Nelson competed in the Softball Toss and 50-meter Fast Walk with the support and encouragement of her family.  As the daughter of Liz and Ron Nelson, Holly holds a special place in the Guardian family. Liz has been the Director of Finance and Administration for Guardian Pharmacy in Jacksonville since 2017.  Holly's sister, Allison, was also there to cheer her on to victory.
Holly took home a bronze medal in the Softball Toss and a silver medal in the 50-meter Fast Walk.  Congratulations Holly for bringing home two medals in the Special Olympic Games!