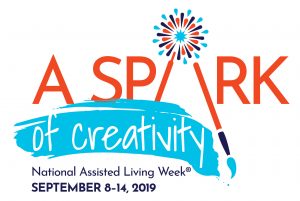 Guardian Pharmacy of Jacksonville will join tens of thousands of assisted living communities across the country kicking off the weeklong celebration of National Assisted Living Week on Sunday, September 8. This year's theme is "A Spark of Creativity."
Finding a creative outlet can be beneficial to mind, body and spirit – especially among older adults, according to the National Center for Assisted Living (NCAL). National Assisted Living Week emphasizes the role caregivers play to help residents find that spark, so they can live life to the fullest.

"A Spark of Creativity" hopes to inspire assisted living residents to explore their creativity, whether through the arts or beyond. According to the American Art Therapy Association, art therapy can benefit older adults by improving cognitive and sensory-motor functions, fostering self-esteem and self-awareness, cultivating emotional resilience, enhancing social skills and improving problem solving skills.
Guardian Pharmacy of Jacksonville has several projects and activities planned that highlight caregivers in the AL communities.  "It is important for our team to understand and relate to caregivers in our partner communities," says Khristy McClelland, President of Guardian Pharmacy Jacksonville. "When our team gains insight into the caregiver's role and their challenges, it helps us better understand the value of our services for caregivers, residents and their families."