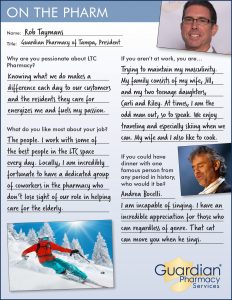 Why are you passionate about LTC Pharmacy?
I graduated from pharmacy school in Maryland in 1990, at which time, I didn't know much about long-term care until 1995. I came to love the customer and resident interaction outside of the pharmacy.  Being able to see and speak to the people and caregivers at the communities personalized things. In 2006, I met the leadership group for Guardian in Atlanta. They convinced me we could work together to do things better, differently. Knowing what we do makes a difference each day to our customers and the residents they care for energizes me and fuels my passion.
What's the best piece of advice you could give customers?
Our customers who provide care regardless of specific setting have extremely difficult roles. They get pulled in many different directions every day. Pharmacy is just one component of caring for the residents in long-term care communities. We are dependent on one another in order to provide the best care possible. Effectively communicating with one another is essential to ensuring accurate and safe medication management.
What do you like most about your job?
The people. I work with some of the best people in the LTC space every day. Locally, I am incredibly fortunate to have a dedicated group of coworkers in the pharmacy who don't lose sight of our role in helping care for the elderly. I sometimes describe the mechanics of pharmacy as being like "Groundhog Day." The activities we perform are all centered on a delivery. Once the delivery goes out, we start on the next delivery and the cycle repeats itself. It is easy to get caught up in the mechanics versus thinking about the end user and their reliance on getting things right. The crew in Tampa is the finest I have worked with and always keeps the residents and communities top of mind.
If you aren't at work, you are….
Trying to maintain my masculinity. My family consists of my wife, Jill, and my two teenage daughters, Carli and Riley. At times, I am the odd man out, so to speak. We enjoy traveling and especially skiing when we can. My wife and I also like to cook.
If you could have dinner with one famous person from any period in history, who would it be? 
James Joyce. I'd like to tell him how miserable he made my life in high school. Actually, I would like to have dinner with Andrea Bocelli. I am incapable of singing. I have an incredible appreciation for those who can regardless of genre. That cat can move you when he sings.
People would be surprised to know….
I was pretty shy when I was younger. I think I may have overcompensated. If you know me, enough said.