This year Guardian Pharmacy SWFL decided to give back to the community by volunteering our time at the Virginia B. Andes indigent pharmacy, a local pharmacy in our area. This pharmacy holds a soft spot in our president Mike Klein's heart, as he was present at its inception and was the lead pharmacist for many years.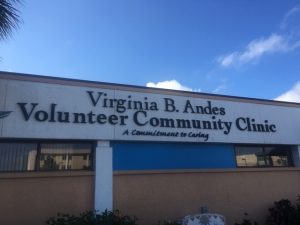 Dr. Thomas F. Ferrara began the clinic in 1999, originally known as St. Vincent de Paul Community Pharmacy of Charlotte County Inc. The pharmacy was a manifestation of Dr. Ferrara's volunteer work with Punta Gorda's Sacred Heart Catholic Church. As the pharmacy grew, Dr. Mark Asperilla and Dr. David Klein recognized a need for a free medical clinic in Charlotte County due to the increased number of Charlotte residents lacking medical care and insurance. Although the clinic started out very small and served the community out of a trailer, it has grown into a large health center that provides qualified residents with episodic medical services, prescription medication and patient assistance programs at no cost regardless of race, religion, color creed, or national origin.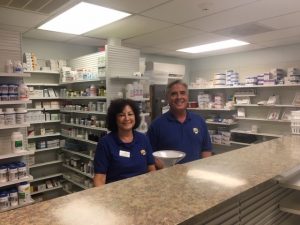 As a volunteer clinic under the umbrella of sovereign immunity, they are able to see eligible Charlotte County residents whose annual income is 200% below the Federal Poverty Level or less. Co-pays and sliding scale fees are waived. Since 1999, the St. Vincent de Paul Community Pharmacy, now a division of the VBA Clinic, has dispensed more than $6 Million dollars' worth of free prescription medication to patients in need. In 2019, The clinic's pharmacy dispensed medications for 2,225 patients and filled close to 32,000 prescriptions. They have also worked with Manufacturer Patient Assistant Programs to arrange medications for 309 patients.
Although our volunteer efforts seem comparatively small to all the functions of the pharmacy at the VBA Clinic, it is very rewarding to know that we are helping people who need it most.