Guardian Pharmacy of Orlando delivered donuts to several communities earlier this month to show how much we appreciate and support our healthcare workers.
We are proud to work with the loyal long-term care communities and staff who continue to go above and beyond in protecting those most vulnerable during this crisis. THANK YOU for all you do and being the true heroes..
The message delivered with the donuts read: "Donut know what we would do without you. Thank you for all you do in keeping our residents safe. We need dozens more like you!"
Pictured below, Maria Rivera, administrator for Florida Presbyterian Homes, accepts donuts for her employees from Jill Daly, director of sales and marketing at Guardian Pharmacy of Orlando. Florida Presbyterian Homes is an award winning continuing-care retirement community located in Lakeland, Fla.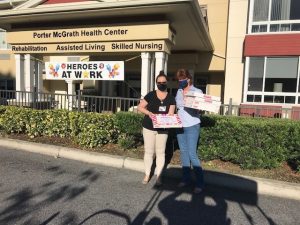 "We are proud to partner with Florida Presbyterian Homes for the past several years, and will continue to support their efforts in protecting those most vulnerable; our seniors" said Jill.
We are all in this together and we couldn't do this without the help of their administration, physicians and staff during this difficult time. For more information, please contact Guardian Pharmacy of Orlando at 407-270-6722.