Click here to register for the event.
We are excited to announce our Spring Clinical Symposium will take place on May 6-7, 2021. Held in partnership with AME, the symposium is open to all Guardian customers, prospects and employees.
Join our clinical team and long-term care associates across the country at the virtual event to expand your network, learn more about industry trends and earn up to six CE credits. The below flyer contains the registration link, as well as the schedule of events.
For more information about the event, please click here.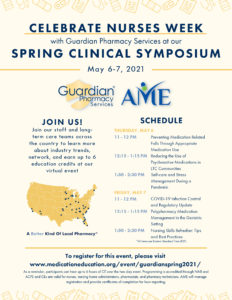 See you there!