Guardian Pharmacy of NWFL offers each of the communities that we service on-site education as well as routine customer service visits.
Stacy Quinnell, LPN, our nurse account manager, with her nursing and long-term care experience, enables us to offer our customers a wide-range of services.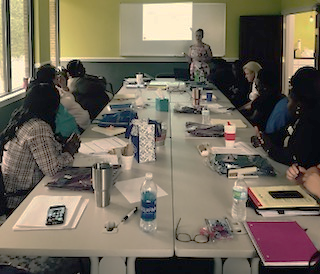 Stacy works closely with our clinical care specialist, Brooke Cooper, RN, as well as consultant pharmacists, pharmacy and facility staff to coordinate and provide in-servicing and education.  She also assists with pre-survey support and customer service opportunities, such as cart audits, med-pass observations, med room inspections and more.
The services available to your staff onsite in your community include the following:
Med-Tech Training course (CEUs)
Alzheimer's I and II course (CEUs)
Medication Cart audits
Med-Pass Observations
Pre-Survey Support
Medication Room Inspections
Routine Customer Service Visits
As the need for assisted living communities grow in our service area, and new communities are opening throughout the panhandle, Guardian Pharmacy is proud to be able to help with initial staff training to offer a better quality of care for the residents that will soon reside in these communities.
Please call Stacy Quinnell at 850-686-7177 or Brooke Cooper at 850-602-8899 to schedule any in-servicing and/or educational needs that you may have.